Wifredo LAM
El Ultimo viaje del buque fantasma - 6, 1976

Original lithograph signed and numbered in pencil by the artist on Arches paper.

Edition: 99 + XX ea
Dimensions of the work: 56 cm x 76 cm
This rare work comes from the archives of Poligrafa, Barcelona, is part of the suite of boards made to illustrate the text of Gabriel Garcia Marquez "El ultimo viaje del buque fantasma", references: Catalogue raisonne Tonneau-Ryckelynck n ° 7610

In perfect condition
Dimensions :
- Height : 56 cm
- Width : 76 cm
This item is sold by a professional art dealer who guaranties its authenticity. This item is used (second-hand)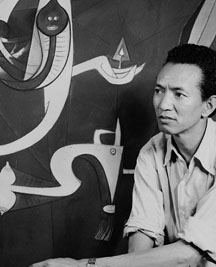 Wifredo Lam : (1902-1982) Wifredo Óscar de la Concepción Lam y Castilla, aka Wifredo Lam, was born in Sagua La Grande, (Cuba) on December 8th, 1902 and died in Paris on September 11th, 1982. Cuban painter, and promoter of a mixed-race painting, blending occidental modernism and african & caribbean symbols, thus creating a singular and contemporary langage. He was close to Picasso, the surrealists as well, who considered him as one of theirs. He also rubbed shoulders with the Imaginistes, Phases and CoBrA.